Mon., Feb. 11, 2013, 10:43 a.m.
Crooks: Fox Boots Palin To Sidelines
Fox News has decided to squelch one of the main buglers for the tea party brigade, Sarah Palin. ... The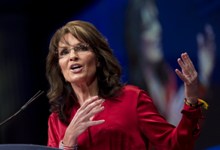 particulars of the Palin parting haven't been reported, but I wouldn't be surprised if Fox News wanted more work in exchange for that $1 million annual salary. Eric Ostermeier, a University of Minnesota political science professor with an enviable amount of free time, conducted a count of all the words Palin uttered during her three-year pundit stretch and concluded that she was paid $15.85 per word, popping up to comment about once every seven days. In a week's time, I write three editorials and a column, totaling about 2,100 words. At the Palin rate, it would cost the newspaper $33,285 per week/Gary Crooks, SR, Smart Bombs. More here. (AP file photo)
Question: Has Sarah Palin finally run her course?
---
---