Mon., Feb. 11, 2013, 1:32 p.m.
Gas Prices Head Northward
Snow storms in the Northeast and better than expected growth in China have kept upward pressure on fuel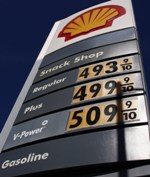 prices. In addition, the ongoing switch to the summer blend fuel and refinery maintenance pushed oil and gas prices higher in the past few weeks. As a result, gas prices are expected to increase into April. Last year gas prices peaked in April, then headed on a downward trend through the summer months. This year is forecast to have a similar trend, but with lower gas prices overall, barring any unforeseen events that have a major impact on fuel supplies. "Gas prices are still forecast to peak in April, so it's likely motorists will see pump prices steadily increase during the next couple of months," said Jessica Brady, AAA spokeswoman, The Auto Club Group. "However, the national average is not expected to exceed $4 a gallon this year for regular unleaded gasoline"/AAA news release. More here. (AP file photo of gas prices in southern California last March)
Question: You knew the below-$3 of the last few weeks was too good to be true, right?
---
---