Mon., Feb. 11, 2013, 4:21 p.m.
Leiss Won't Return As Vik BB Coach
Keint Leiss said Monday he will not return as the Coeur d'Alene High boys basketball coach this season. He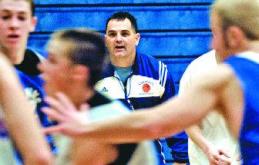 resigned on Feb. 1, two days after a group of disgruntled parents met with administrators to complain about their sons being verbally abused by Leiss and a volunteer assistant. After thinking about his decision, Leiss asked to rescind his resignation last Wednesday. Leiss, 49, who was in his 10th season at CdA, met for 30 minutes with school district officials Monday. He was told an investigation would take place and be concluded by March 4, the next scheduled board meeting. Leiss said he wants an opportunity to clear his name/Greg Lee, SR. More here.
Question: What do you make of this curious situation?
---
---