MONDAY, FEB. 11, 2013, 9:04 A.M.
Singing Her Way To 'Idol' Semifinals
Brooke Hayden (pictured) began her trek along the road to Hollywood long before her first audition for an "American Idol"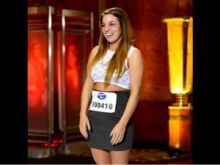 producer. When the Fox television show airs this week, on Wednesday and Thursday at 8 p.m., viewers will learn whether the Dalton Gardens 23-year-old will move on to the show's semifinal rounds. Hayden, a 2007 Coeur d'Alene High School graduate who moved to North Idaho at 13, says she discovered her love of singing early, and did it all the time as very little girl. One of Hayden's early influences, one that continues to inspire her today, was the movie "Selena," about the life of a young Texas girl who rose to fame to become one of the top Latin musical artists of the '90s. The film's music enthralled Hayden. "I saw that movie when I was kind of young, and from that point on, I was pretty much hooked," Hayden said. "I learned to sing all the English songs and all the Spanish songs when I was about seven"/Maureen Dolan, Coeur d'Alene Press. More here. (Photo courtesy of 'American Idol' and Coeur d'Alene Press)
Question: Do you have a good singing voice?
---
---