Mon., Feb. 11, 2013, 11:54 a.m.
Walter Releases Book Of Short Stories
Jess Walter (pictured in SR photo) has always written short stories. His first few – except the one he wrote for a writing contest and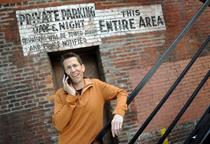 won $25 – didn't make him a dime. But in the past decade, he's published many of his short stories in magazines such as McSweeney's, Harper's, ESPN the Magazine and Playboy. Now, the Spokane native and New York Times best-selling author is releasing his first collection of short stories. "We Live in Water" ($14.99, Harper Perennial) will be in bookstores Tuesday. "I think I'm a more natural novelist, and that's why it took six novels before I got a book of stories together," Walter said recently over coffee at Atticus downtown. "I've always written (stories) and haven't always published them because it's really tough to get them into the market"/Carolyn Lamberson, SR. More here.
Question: Have you read any of former SR reporter Jess Walter's books? Favorite?
---
---