TUESDAY, FEB. 12, 2013, 5:03 P.M.
Bland: Eastern Washington Scablands
In route to Seattle, somewhere between the frozen over Sprague Lake and the occasionally odorous Moses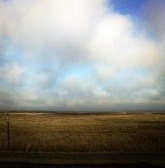 Lake, I looked out the passenger window and lamented over the dreariness of the scenery. If you wonder what scenery I speak of, I can only answer that you've proven my point. I have driven along that stretch of I-90 several times, and it's always been my least favorite section of road between Seattle and Spokane. In my opinion, it's missing something. Primarily color. More specifically, any color other than a sickly yellowish brown. It's somewhere along that uninviting expanse that I held my phone up to the car window and snapped the picture below/Nic, Rants, Raves & Random Thoughts. More here. (Photo: Rants, Raves & Random Thoughts)
Question: How would you describe the scablands of Eastern Washington?
---
---