Tue., Feb. 12, 2013, 1:24 p.m.
Did IFF Cross Line w/Money Pitch?
When the Idaho Freedom Foundation distributed its "2013 Idaho Report on Government Waste" to every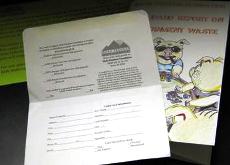 lawmaker, complete with a color drawing of a cigar-smoking pig in sunglasses raking in gambling-table winnings labeled "TAXES" on the cover, it had a little extra tucked inside: A pitch for money. A donation envelope invited recipients to "support Idaho Freedom Foundation in its quest for limited, accountable government and individual freedom" by making a gift of $5,000 $1,000, $500, or $100, with the $100 level identified as a one-time payment that would make the giver a "Friend of Freedom." There was also a space to list the lawmaker-donor's credit card information/Betsy Russell, Eye on Boise. More here.
Question: Did the Idaho Freedom Foundation cross the line by including a pitch for money in its "Government Waste" report to lawmakers?
---
---