Tue., Feb. 12, 2013, 8:58 a.m.
Hydroplanes Get Green Light — Again
Hydro race promoters say the races will return to Lake Coeur d'Alene this Labor Day weekend. And, according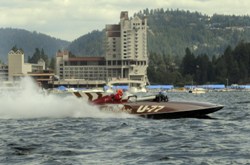 to a flier marketing the race, tickets will be available March 1. But promoters couldn't elaborate Monday on how this year's event would be different than last year's - the one that was canceled because of a financial shortfall after the plan was announced in grand fashion. "I am pleased to announce that H1 Unlimited Series will Return to Coeur d'Alene," Sam Cole, H1 Unlimited chairman, said in a press release issued Saturday. "A deposit check was forwarded to us and we are excited to be returning to a legendary race site after many years of absence." The release didn't state who issued the check, or in what amount/Tom Hasslinger, Coeur d'Alene Press. More here. (SR file photo: David Williams pilots the "Miss Wahoo" in front of the Coeur d'Alene resort in August 2010, the first time any hydroplane had been on the lake in 42 years)
Question: Do you expect local hydroplane supporters to pull of the races this year?
---
---