TUESDAY, FEB. 12, 2013, 8:26 A.M.
Shaw To Honor Greatest Generation
If they start awarding Grammys for heart and high hopes, Randy Shaw could clean up next year. Yes, that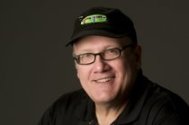 Randy Shaw – dean of Spokane TV newscasters, musician and, I'm proud to say, my friend. A few months ago the KREM news anchor came up with an honorable idea for an even more honorable cause. Shaw's plan, which he will unveil in greater detail Wednesday during his 5 p.m. and 6 p.m. newscasts, was to assemble a number of local and nationally known singers and musicians who would volunteer to record a compilation CD. The only guideline: Perform something out of the Greatest Generation's songbook. That's because all proceeds from the sales and downloads of "In Your Honor" – to be officially released in late March or early April – will go to Honor Flight, one of the sweetest programs going/Doug Clark, SR. More here.
Question: Will you support Randy Shaw's cause?
---
---