Thu., Feb. 14, 2013, 11:56 a.m.
Child's Toy Experiencing Revival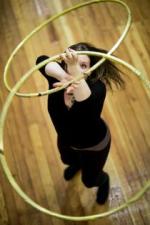 Although inducted into the National Toy Hall of Fame in 1999, the Hula Hoop has evolved into much more than a child's plaything. At First Night Spokane, people thronged to watch the Visual Vortex Spin Collective dance with hoops. To the delight of an enthusiastic audience, the group twirled and spun flaming hoops, accompanied by eclectic music. Troupe co-founder Stefanie VanDeest discovered hoop dancing or "hooping" several years ago. "It was love at first sight," she said. "It's such a beautiful expression and it's mesmerizing whether you add fire or not"/Cindy Hval, SR. More here. (Colin Mulvany SR photo: "It feels very uplifting for the spirit," said Visual Vortex dance troupe member Candice Walberg as she hoop dances)
Question: Can you now -- or have you ever been able to -- hula hoop?
---
---