Thu., Feb. 14, 2013, 8:16 a.m.
Idaho Border Towns Get Booze Boost
Idaho's seen big boosts in sales in its state liquor division from Washington residents, division Director Jeff Anderson told the Joint Finance-Appropriations Committee today. "Sales along the border there are up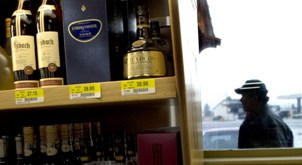 probably 20 to 30 percent," Anderson said. "With the addition of the Stateline store, combined Post Falls/Stateline is tracking about plus-70 percent." The sales got a boost when Washington's liquor prices spiked after the state's voters decided to privatize their state liquor system, but to keep all state taxes and fees in place. Rep. George Eskridge, R-Dover, asked, "As consumers in Washington get used to the convenience, I guess, of buying it out of the store, even though it's got a higher price, my question is, will we continue having the same advantage? Or will the Washington consumers adapt to their prices and elect to stay home?"/Betsy Russell, Eye on Boise. More here. (Kathy Plonka SR file photo: Patrons make their way to State Line Liquor Store in State Line in December)
Question: Do you think Washington shoppers will buy their booze in their own step once they get used to the convenience of buying it at a grocery store?
---
---