Thu., Feb. 14, 2013, 5:09 p.m.
Rogue Ex-LAPD Cop Confirmed Dead
Remains of a man who was in a burned California cabin on Tuesday have been positively identified as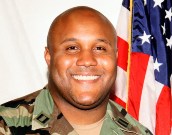 belonging to that of Christopher Dorner (pictured in LAPD photo), the former LAPD officer who was suspected of killing four people and was the subject of an intense manhunt, officials confirmed. The San Bernardino County Coroner's office said the positive identification was made through dental records. The final hours of the manhunt for Christopher Dorner began when Jim and Karen Reynolds opened the door of one of their rental condos. "We had come into the living room and he opened the door and came out at us," said Karen. "He had the gun drawn," added Jim. A man believed to be Dorner tied them up. "He talked to us, trying to calm us down," said Karen, "and saying very frequently he would not kill us"/CBS News. More here.
---
---