THURSDAY, FEB. 14, 2013, 9:12 A.M.
They Left Their Hearts In CdA
Phil Fowler has the restaurants and shops of Coeur d'Alene to thank for his engagement with Nicole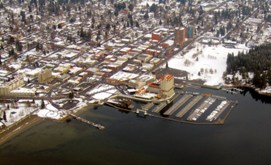 Chichenoff, he said. The two had their first date at Angelo's Ristorante Italiano, where the owner showed them special attention. "Angelo's earned me some major points," Fowler said. The Coeur d'Alene couple has spent hours talking at Calypso's Coffee, too, he said. At Bonsai Bistro, he changed Chichenoff's mind about sushi. Often, they have simply strolled by Lake Coeur d'Alene and shopped downtown. "If it wasn't for Coeur d'Alene, we wouldn't have gotten to know each other as we did," said Fowler ... Don't bother visiting anywhere else to pamper your significant other this Valentine's Day. When it comes to Cupid-friendly venues, Coeur d'Alene visitors and residents agree that ours hits all the marks as a romantic city/Alecia Warren, Coeur d'Alene Press. More here. (Jesse Tinsley's SR aerial file photo of Coeur d'Alene's waterfront, taken in January)
Question: Which city do you consider more romantic -- Coeur d'Alene or Spokane? Or both? Or neither?
---
---