Fri., Feb. 15, 2013, 4:30 p.m.
Idaho Dad: What? Me Worry?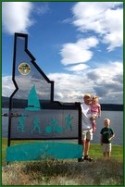 What do you worry about? Are most of your worries based on perception rather than reality? I've found that since I no longer watch TV news, my list of fears has decreased dramatically. I used to dwell on things that had very little chance of actually happening to me, just because the talking heads on the TV news told me I should be afraid. But then I'd forget about the slippery bathtub in my house or the artery-clogging hamburger I was eating/Idaho Dad, A Family Runs Through It. More here.
Question: Are you a worry wart?
---
---