Fri., Feb. 15, 2013, 8:42 a.m.
Jeers: Hoffman Godwins Exchange
JEERS ... to Idaho Freedom Foundation Executive Director Wayne Hoffman (photo). Appearing Saturday at the Latah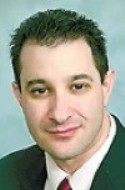 County Republican's Lincoln Day banquet, Hoffman became the latest adherent to Godwin's Rule, which holds a long argument ultimately devolves into Nazi analogies. Hoffman got his opportunity while debating against Gov. C.L. (Butch) Otter's plan to establish a state-based health insurance exchange whereby small companies and individuals can shop for policies. Under Obamacare, the federal government will set up the exchange if the state opts out. By taking that step, Hoffman said, Idaho was no different than the Vichy French, who after being overrun by Nazi Germany in 1940 submitted to occupation. "It was the French government who put French Jews on the train to Auschwitz," Hoffman said. "I don't think they truly understood what they were doing"/Marty Trillhaase, Lewiston Tribune. More here.
Question: What is it with opponents of Obamacare and Nazi Germany?
---
---