FRIDAY, FEB. 15, 2013, 8:38 A.M.
Press: 'Atlas Shrugged' Worth Read
In its editorial today, the Coeur d'Alene Press weighs the merits of a bill sponsored by Idaho State Sen. John Goedde, which would require all high school students to read "Atlas Shrugged":
While we don't think "Atlas" merits a mandate to become the only novel that's required reading statewide - that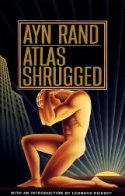 should remain the judgment call of individual districts - Goedde is correct in his desire for future generations of Idahoans to sip from Rand's cup of ideas that were somewhat revolutionary in her time and continue to influence many Americans. As Goedde is well aware, at the forefront of Rand's most vehement objections was governmental intrusion, whether it came in the form of bureaucratic sticks poked in the spokes of business or personal growth. To Rand, a Russian immigrant who died in 1982, society is strongest when individual responsibility is most esteemed and governmental mandates are all but eschewed. Our purpose in life, she concluded, is the personal pursuit of happiness. Now where have we heard that before? More here.
Question: Do you plan to read "Atlas Shrugged" in the next year?
---
---