MONDAY, FEB. 18, 2013, 8:27 A.M.
Dalton Gardens Poacher Kills 8 Deer
Five more deer were found shot dead Thursday and Friday in Dalton Gardens, bringing the total to eight deer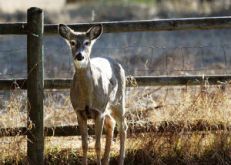 fatally shot by poachers in the last week. Three of the deer were does that were carrying fawns, and a small caliber weapon was used in each instance, according to the Idaho Department of Fish and Game. "They are likely being shot at night or in the very early morning," said Phil Cooper, an IDFG spokesman, on the string of shootings around residential neighborhoods in the small town north of Coeur d'Alene. "It's hard to believe nobody heard any shot"/David Cole & Tom Hasslinger, Coeur d'Alene Press. More here. (Tom Hasslinger's Press photo: A deer stands outside a Dalton Gardens home Friday afternoon)
Question: Do you think the poacher(s) is someone fed up with urban deer? Or simply someone who likes to kill animals?
---
---