Exec Fired After Alleged Tot Slap
Also: 'Heinous and hateful': Parents describe Idaho man's attack on toddler/Dave Berggren, KARE11, KTVB
A man charged with slapping a toddler on a Minneapolis-to-Atlanta flight is out of a job, his former employer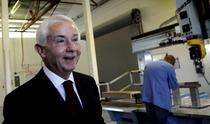 said Sunday. Joe Rickey Hundley, 60, of Hayden, pictured, is no longer an employee of AGC Aerospace and Defense, Composites Group, Daniel Keeney of DPK Public Relations confirmed Sunday night. Al Haase, president and CEO of AGC, issued a statement early Sunday that, while not referring to Hundley by name, called reports of behavior by one of its executives on recent personal travel "offensive and disturbing" and said he "is no longer employed with the company." Keeney would not say whether Hundley was fired or resigned. Hundley was president of AGC's Hayden-based Unitech Composites and Structures unit/Associated Press. More here.
Earlier Huckleberries threads:
Question: Did Hundley deserved to be fired before his innocence or guilty was determined?
---
---