Mon., Feb. 18, 2013, 8:39 a.m.
Vatican Changes Put US In Play
Conventional wisdom holds that no one from the United States could be elected pope, that the superpower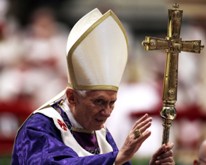 has more than enough worldly influence without an American in the seat of St. Peter. But after Pope Benedict XVI's extraordinary abdication, church analysts are wondering whether old assumptions still apply, including whether the idea of a U.S. pontiff remains off the table. Benedict himself has set a tone for change with his dramatic personal example. He is the first pontiff in six centuries to step down. Church leaders and canon lawyers are scrambling to resolve a litany of dilemmas they had never anticipated, such as scheduling a conclave without a funeral first and choosing a title for a former pope/Associated Press. More here. (AP photo: Pope Benedict offers a blessing at Ash Wednesday services last week)
Question: Would you like to see an American pope?
---
---