Tue., Feb. 19, 2013, 4:40 p.m.
Alleged 'Toddler Slapper' Free On Bail
Also: Joe Hundley, 'Toddler Slapper' & lawyer get hate mail: 'He is not a racist'/Brittney Villalva, Christian Post Reporter
An Idaho man charged with slapping a toddler on a Minneapolis-to-Atlanta flight has made an initial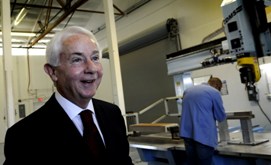 appearance in federal court. Joe Rickey Hundley (pictured in SR file photo by Kathy Plonka) surrendered to federal agents Tuesday morning and then stood before U.S. Magistrate Judge Mikel H. Williams via video at the federal courthouse in Coeur d'Alene. Hundley, of Hayden, was released by the magistrate on $10,000 bond. As conditions of his release, the 60-year-old cannot drink alcohol or possess firearms and must surrender his passport. He cannot travel outside of Idaho, eastern Washington state, or the northern district of Georgia, where the case will be tried/Associated Press. More here.
Thoughts?
---
---