Tue., Feb. 19, 2013, 8:53 a.m.
Gun Rights Rally Set For Lewiston
Two members of the Lewis and Clark Tea Party Patriots are hoping Pioneer Park will be loaded with gun rights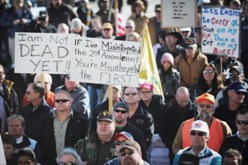 advocates Saturday for a Second Amendment rally. Marvin Dugger of Lewiston and Rose Bunch of Clarkston are hosting the event on behalf of the Tea Party group.The rally will begin at 1 p.m. in the Lewiston park, complete with guest speakers and food and beverages. One speaker the group has secured is Idaho County Commissioner Jim Chmelik. Dugger said the pair planned the event with relatively short notice, but got the idea from other places around the country that have recently had "enormously successful" Second Amendment rallies since discussion of gun control reform began on a national level/Kelcie Moseley, Lewiston Tribune. More here. (AP file photo: Hundreds gather at the Bonneville Courthouse for the Save Our Second Amendment Rally on Saturday)
Question: What affect do Second Amendment rallies have?
---
---