After being closed for more than a year, Hecla's Lucky Friday silver mine reopened this week, following a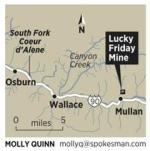 series of safety upgrades that cost more than $30 million. The mine was closed on orders from federal mine inspectors following a rock burst that injured seven workers in December 2011. The mile-deep silver mine in Mullan, Idaho, is expected to return to full production later this year. The company announced all employees were recalled and received supplemental safety training. The rock burst injuries followed fatal accidents at the Lucky Friday that killed two miners in April and November of 2011/Tom Sowa, SR. More here.
Question: Does your family have a mining heritage?