Tue., Feb. 19, 2013, 1:15 p.m.
Survey: Idaho 7th Happiest State
Sorry, Louisiana, you are the saddest state. And Hawaii (shocker!) you are the happiest. That's according to a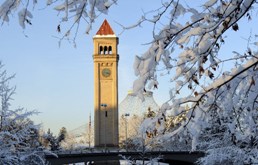 team at the Vermont Complex Systems Center, who posted their new analysis of 10 million geotagged tweets to to arXiv.org. They call their creation a "hedonometer." They also found that the Bible belt stretching across the American south and into Texas was less happy than the west or New England. The saddest town of the 373 urban areas studied was Beaumont in east Texas. The happiest was Napa, California, home of many drunk people wine makers. The only town among the 15 saddest that was not in the south or Rust Belt was Waterbury, Connecticut/Alexis C. Madrigal, The Atlantic. More here. (Dan Pelle SR file photo of clock tower in Riverfront Park on frigid December 2010 day)
Also: The article goes on to say that Spokane is the 11th happiest city -- and lists Idaho (No. 7) and Washington (No. 9) among the happy states.
H/T: Phaedrus
Question: Would you describe yourself as a happy person?
---
---