Wed., Feb. 20, 2013, 1:35 p.m.
Dover Bridge Manager Gets Probation
Kip David Harris, 38, of Boulder, Mont., was sentenced Tuesday in U.S. District Court in Coeur d'Alene to three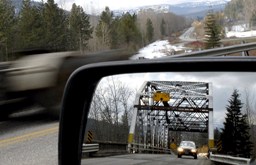 years' probation for making a false statement, U.S. Attorney Wendy J. Olson announced. U.S. District Judge B. Lynn Winmill also ordered Harris to pay a $750 fine. He pleaded guilty to the charge on Dec. 4. Harris was the lead superintendent of the Dover Bridge Project, the majority of which was funded by the American Recovery and Reinvestment Act of 2009 through the Federal Highway Administration. The project called for the existing steel-truss bridge located on U.S. 2 near Dover to be replaced with a new steel bridge. According to court documents, Harris directed laborers to modify nonconforming anchor bolts so it would appear to the inspection team that the bolts were in compliance. Harris admitted that he knew the anchor bolts did not conform to contract specifications. The safety and soundness of the project was not affected. The case was investigated by the United States Department of Transportation and the FBI. (Kathy Plonka SR file photo of old Dover Bridge)
Thoughts?
---
---