Wed., Feb. 20, 2013, 5:19 p.m.
Kellogg Recalls Special K Red Berries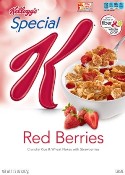 Kellogg announced of their voluntarily recalling of Special K Red Berries cereal because of possible glass fragments inside the packaging. The company is to recall three different sizes of 11.2-ounce, 22.4-ounce and 37-ounce boxes sold in the U.S. "Please check any packages you have in your home and if your package matches the following criteria, please do not eat the product and contact us for a replacement coupon," the alert said. "We may also make arrangements to retrieve the product for further evaluation"/KpopStarz. More here.
Question: What kind of breakfast cereal do you eat?
---
---