Wed., Feb. 20, 2013, 1:12 p.m.
Panel Rejects Road DUI Memorials
Idaho already has plenty of informal memorials to highway fatalities, erected by grieving family members. But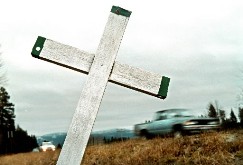 the state isn't slated to get an official, state-sponsored program to honor those killed by drunk drivers, after a House panel rejected the proposal on Wednesday. Democratic Rep. Shirley Ringo of Moscow brought the plan to the House State Affairs Committee, saying erecting signs to remember victims could warn people about the dangers of driving while drunk. Ringo was asked to promote the bill on behalf of former Rep. Rep. Tom Trail, who lost a family member in such an accident/Associated Press. More here. (Kathy Plonka SR file photo of a cross that once stood along Highway 95)
DFO: I appreciated the road side crosses that served as memorials and reminders of fatalities, during the five years I lived in Montana. I never found them to be a distraction. How about you?
Question: Do you agree/disagree with the decision by the House State Affairs Committee not to allow state-sponsored signs along roadways to remind drivers of those killed by drunken drivers?
---
---