Wed., Feb. 20, 2013, 4:07 p.m.
TSA Removes Kalispell Body Scanner
The Transportation Security Administration is removing its full-body scanner from Glacier Park International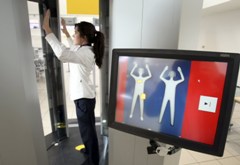 Airport (Kalispell, Mont.) today, meaning the return of the enhanced pat-down and "perhaps longer wait times" for departing passengers, airport director Cindi Martin said. The millimeter-wave Advanced Imaging Technology machine was installed at Glacier Park International in March 2012. Martin said the scanner was well-received and streamlined the boarding process. "We're really disappointed that the TSA is removing them from our airport," Martin said. "It is a great disservice to the flying public. "People had become comfortable with the scanner. It certainly did speed the process and removed the need for the enhanced pat-down"/The Daily Inter Lake. More here. (AP file photo for illustrative purposes)
Question: Would you rather go through a full-body scanner at an airport or an enhanced pat down?
---
---