Wed., Feb. 20, 2013, 12:01 p.m.
VP: Shotgun Offers Better Protection
Vice President Joe Biden said Tuesday that Americans don't need semi-automatic weapons to protect their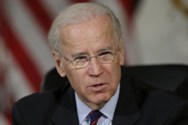 homes because a couple of blasts from a shotgun will scare off intruders. "Buy a shotgun, buy a shotgun," the vice president encouraged those worried about defending themselves. He was speaking in an online video as part of a Facebook town hall hosted by Parents Magazine on the administration's strategy for reducing gun violence, which he has led at the direction of President Barack Obama. Biden said he keeps two shotguns and shells locked up at home and he's told his wife, Jill, to use them if she needs protection. He presumably was speaking about before he became vice president, a position that gives the couple full-time Secret Service protection/Associated Press. More here. (AP file photo)
Question: Do you agree with VP Biden that a shotbun is more effective against a home intruder than a semi-automatic weapon?
---
---