Thu., Feb. 21, 2013, 5:32 p.m.
Canfield Teacher Is Idaho's Best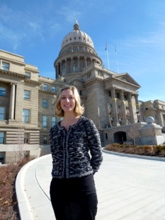 Before she became an honors college student and was named 2013 Idaho Teacher of the Year, Katie Pemberton struggled mightily in the classroom. Pemberton, a math teacher at Coeur d'Alene School District's Canfield Middle School, grew up in Spokane, Wash. In the first and second grades, Pemberton wasn't able to keep up with her peers in reading. "I remember being pulled out for special reading programs," Pemberton said. She received special attention from her teacher. Her family members encouraged her progress. And she devoted extra time to reading and schoolwork/Clark Corbin, IdahoED News. More here.
Question: What was your most difficult subject in high school?
---
---