Thu., Feb. 21, 2013, noon
TWolf22: Zag Fans Went Too Far
In the Cutline Contest comments section re: the 4 Gonzaga fans dissing a Santa Clara player, TWolf comments:
Maybe just remember the time when fans did have class and acted like civilized individuals who respected the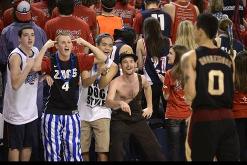 competitors on both teams. There is nothing wrong with cheering loudly, but comments directed at individual players is cowardly. If you want to "taunt" you should have to back it up. In my day, that meant putting your fists where your mouth was. I have gone to so many college games in my life, 50+ years, and still see plenty of fans who behave in a respectful manner. It is usually just a minority of clowns who probably wouldn't know what a jock strap was for, who act like idiots.
DFO: I don't know if Zag fans do this when a play goes against their team. But I believe it's inappropriate for a Catholic school to start chanting the equivalent of "BS," as Saint Mary's fans did in the Gaels home game with Gonzaga. The administration should stop that nonsense.
Question: How far should college fans be allowed to go in rooting against the visiting team?
---
---