Thu., Feb. 21, 2013, 1:39 p.m.
Warrant Issued In Jan. 27 Accident
A warrant has been issued for Timothy J. Freund, 38, of Coeur d'Alene, who was injured along with his 3-year-old daughter when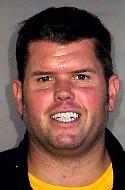 the car he was driving crashed into a tree at Miles and Avondale Loop, Hayden Lake, about 3:30 p.m. Sunday, Jan. 27. Freund allegedly had a blood-alochol level of .32 at the time of the crash -- or four times the legal limit. Freund was arrested for DUI after refusing medical aid for his daughter and him at the scene of the crash. Both accident victims were bruised and bleeding. The girl was treated at Kootenai Medical Center and later Sacred Heart in Spokane. A judge found probably cause Tuesday to charge Freund with felony injury to child, felony aggravated DUI and felony DUI. In 2007, he was arrested on separate occasions for boating under the influence and DUI. A bond of $50,000 has been set upon his arrest/Lt. Stu Miller, Kootenai County Sheriff's Office. Complete news release here.
---
---