Fri., Feb. 22, 2013, 5:19 p.m.
Racist FB Post Rattles GOP Official
The chairwoman of the Yellowstone County Republicans is under fire after several blogs reported a racist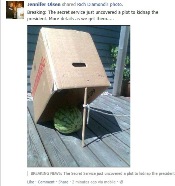 photo posted to her Facebook page. Jennifer Olsen has told her Yellowstone County Central Committee that she did not post on her Facebook page an image of a box trap baited with a watermelon to capture President Barack Obama. A screen-captured image from the Facebook page was posted to a local right-leaning blog Feb. 15 and quickly went viral. It has been re-posted on the Daily Kos, a liberal website with 2.5 million unique monthly visitors. Commentors on several blogs are calling Olsen racist for the post. Olsen did not respond to email and phone calls placed by The Billings Gazette/Tom Lutey, Billings Gazette. More here.
Question: You be the adviser. What would you tell elected officials or party leaders with Facebook/social media pages?
---
---