Fri., Feb. 22, 2013, 8:24 a.m.
Senate OKs Health Exchange 23-12
After a six-hour debate, the Idaho Senate voted 23-12 Thursday in favor of Gov. Butch Otter's state health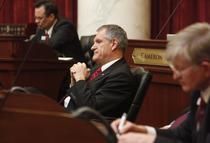 insurance exchange bill, marking a key victory for the GOP governor and sending his signature proposal of the legislative session to the House. Outnumbered opponents extended the debate – which ran from 9:45 a.m. to nearly 4 p.m. – asking questions, proposing motions that were voted down and threatening to go even longer. Under the national health care reform law, states can choose to set up their own exchanges – Internet-based portals where residents can shop for health insurance plans and access federal subsidies – or the federal government will run exchanges for them/Betsy Russell, Eye on Boise. More here. (AP photo: Sen. John Tippets, R-Montpelier, listens as the Senate votes on SB 1042)
Question: Will this bill become a litmus test for future candidates running in GOP primaries?
---
---