Fri., Feb. 22, 2013, 1:58 p.m.
Spokane7 To Live-Blog Oscar
Longtime Spokane writer, film reviewer and Spokane7 blogger, Dan Webster, is live-blogging the Oscars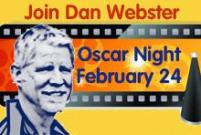 throughout the 85th Annual Academy Awards this Sunday. The Spokane Public Radio "Movies 101" co-host will give you his take as the action unrolls. Will Ben Affleck, spurned at a chance for Best Director, enjoy the last laugh, if his film "Argo" steals Best Picture honors from "Lincoln?" Will overwhelming Best Actor favorite Daniel Day-Lewis watch as another two-time Oscar winner — Denzel Washington — walks away with that little gold statuette? Watch with Dan and get instant insight by checking in on the Spokane 7 Blog.
Question: How many hours of Oscar coverage do you plan to watch Sunday night?
---
---