Fri., Feb. 22, 2013, 2:16 p.m.
Diamond Cup Directors Abandon Ship
You may know that hydroplane races are scheduled on Lake Coeur d'Alene for Labor Day weekend this year.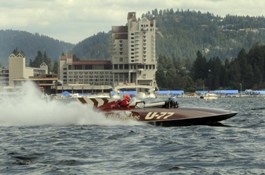 But did you know that directors of the Diamond Cup Regatta are dropping like flies? A look at the Secretary of State's business directory reveal that four directors abruptly resigned their posts in the first week of this month -- Art Flagan, Jim Addis, Craig Brosenne and David Bobbitt. Additionally, there's a correction on the Secretary of State's site that shows Kiki Miller had been inadvertently listed as a director. She resigned her post last April 13. According to Secretary of State files, the remaining directors are Rick Sousa, Doug Miller and Brad Hagadone. (SR file photo: David Williams pilots the "Miss Wahoo" on Sunday, Aug. 22, 2010, the first time any hydroplne had been on the lake in 42 years)
Question: Anyone know what's up with the mass exodus from the Diamond Cup Regatta, in a year when it appears that the hydroplane races would happen?
---
---