Mon., Feb. 25, 2013, 5:09 p.m.
Best Picture 'Argo' Has Post Falls Tie
He lists Iran, Iraq, India and more than two dozen other nations among the places he's worked. H. Lee Schatz'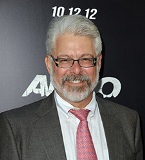 31 years with the Foreign Agricultural Service shows the University of Idaho agricultural economics graduate is brave, resourceful and committed to making the world a better place. He's also the only agricultural economist to trod the red carpet in October's Beverly Hills premier of Ben Affleck's new movie "Argo." It portrays a 1980 U.S.-Canada covert operation to extract six Americans from Iran during the hostage crisis. Lee Schatz was one of the six. That's why he was on the CBS Sunday Morning show Oct. 7. A 2007 Wired Magazine story talked about the rescue, focusing on the CIA's role, which was kept secret at the time to protect Americans still held hostage. Schatz, pictured, grew up on the Rathdrum Prairie on a small family farm near Post Falls/University of Idaho news release. More here. (Photo courtesy of University of Idaho)
Question: Do you remember the Iran Hostage Crisis?
---
---