Mon., Feb. 25, 2013, 8:49 a.m.
Blanchette: Zags Enjoy The Moment
The point has been reached on the calendar, and on the scoreboard, where it is a challenge to live in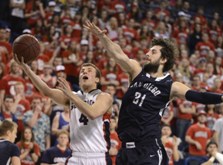 the moment. The score mushrooms. March and its madness looms. Giddy anticipation befogs even the undeniable appeal of the here and now, and if the Gonzaga Bulldogs don't much want to hear about it, they are responsible for it. In that respect, they are too good right now for their own good. On an incandescent afternoon in Spokane, the Zags turned the lights out again on another poor victim, the University of San Diego Toreros this time – a team that took Gonzaga down to the last shot just three weeks ago barely putting up resistance through the first TV timeout Saturday. The final score was 81-50. That made it the nail biter of the week/John Blanchette, SR. More here. (Colin Mulvany SR photo: Gonzaga's Kevin Pangos goes up for lay-up again San Diego)
Related:
Question: Are you enjoying the Zags run this year, too?
---
---