TUESDAY, FEB. 26, 2013, 8:18 A.M.
Clark: The Real Story Behind 'Argo'
Newly crowned best picture "Argo" is about a fake science fiction movie that was created as a ruse to bring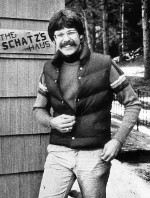 home six American diplomats who were hiding out during the 1979 hostage crisis in Iran. But after watching "Argo" over the weekend, I'm thinking the finished product is nearly as fanciful as the film that was never meant to be made. That's the trouble when you know more facts than you should about something, I guess. What happened in Iran more than three decades ago always boils down to a couple of deeply personal things to me: The biggest scoop I ever had. And the most meaningful decision of my newsmongering career. My unexpected intrusion into this international crisis centered on a U.S. agricultural attaché who was serving in Tehran when militants stormed our embassy on Nov. 4, 1979. His name is Lee Schatz/Doug Clark, SR. More here. (SR file photo circa 1980, of Lee Schatz)
Question: Have you seen "Argo"?
---
---