Tue., Feb. 26, 2013, 10:22 a.m.
Country Replaces Old Bikini Bar
Moose Lounge owner Dave Pulis and company are chasing a niche in the market they can't believe hasn't yet been tapped in the heart of North Idaho. Wine bars, biker bars, sports bars, even high-end locales with fancy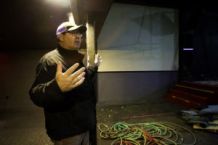 appetizers dot Coeur d'Alene's dining and drinking landscape - not that there's anything wrong with that. But something, Pulis said Monday, has always seemed to be missing. The biggest city in the otherwise rural Idaho Panhandle doesn't have a kick-your-heels-up kind of country music bar. Not a bar that hangs a poster of John Wayne and calls itself the Wild, Wild West, but a good ol' fashioned country bar with a music stage, dance floor and a casual atmosphere where you eat "peanuts and popcorn and throw your shells on the floor." "I just felt the Coeur d'Alene market was perfect for country," said Pulis, touring the 5,500-square foot-building Monday, formerly home to the Rendezvous night club, that will house the new live music hall, The Country Club/Tom Hasslinger, Coeur d'Alene Press. More here. (Coeur d'Alene Press photo: Shawn Gust)
Question: Are you glad to see the official end of The Torch/Rendezvous era in downtown Coeur d'Alene?
---
---