TUESDAY, FEB. 26, 2013, 3:40 P.M.
Lahr's Strategery Spreading Wings
Seems that Ron Lahr's Strategery political organization is trying to fry bigger fish as evidenced by a flyer (The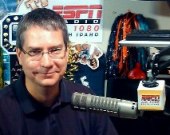 Strategery Report, February issue) circulated to legislators via the state email system today. The 8-page flyer encourages Republicans to focus on winning elected positions on nonpartisan boards to eliminate Democrats from holding revenue purse strings. Also, it includes a section on why the "modest" -- word use by Lahr (pictured) & Jeff Ward -- reforms proposed by Superintendent of Schools Tom Luna were soundly defeated by otherwise conservative Idahoans. At the end, The Strategery Report tells the individual lawmakers: "Whether you are an incumbent, a challenger, or seeking an open seat, we at the Strategery Group would like the opportunity to help you to victory. You can read The Strategery Report yourself here.
Question: Do you think Ron Lahr and Jeff Ward will be successful in exporting their brand of Reagan Republicanism, via Strategery, throughout Idaho?
---
---