Wed., Feb. 27, 2013, 2:11 p.m.
Atmospheric Ruminations, 58, RIP
Sad news to report today. I just verified with the Coos Bay Chapel in Coos Bay, Ore., that whimsical Dave Holmes, 58, (aka Atmospheric Ruminations) died of natural causes on Nov. 4. Dave, as you know, moved from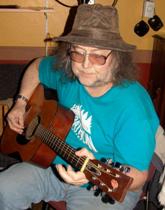 his native Coeur d'Alene a few years back because he felt that Coeur d'Alene was getting too crowded. He returned last year for his 40th class reunion. I know that his father's suicide had haunted him through the years. I had the pleasure of meeting him in person before he moved to Oregon. He wasn't much of a people person. So I considered myself honored that he'd swing by the office to say goodbye. He was whimsical in his observations. But a kind soul. I'll miss him. In June 2011, Dave wrote a poignant blog post re: his family while considering the Casey Anthony trial. He wished his family was as mellow as his friend's. It'll give you some insight into this gentle but sometime tortured soul. Click here. You can also read his final blog post here. And you can read how he described himself on his blog here. H/T: Cis, for giving me a heads up re: Dave.
Of the Facebook photo inset above, Dave posted on June 10, 2012: "We locked the doors once the crowd was seated. I played for a 'captive' audience. 'Twas Friday nite at the open mic. Everyone clapped afterwards. They had to, or they wouldn't be allowed to leave. Me thrashing the Yamaha guitar I've had since 1985. Bought it for $65 from a pawnshop. It's never been in a pawnshop since, which is something of a miracle. Ask any musician how often they've had to pawn their instruments."
Thoughts?
---
---