Wed., Feb. 27, 2013, 8:24 a.m.
Cancer Center Buys New Equipment
The Kootenai Cancer Center location in Coeur d'Alene on Tuesday showed off its new $2.3 million linear accelerator for cancer treatment and imaging. The Trilogy model linear accelerator was developed by Palo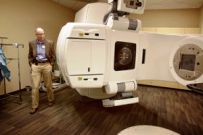 Alto, Calif.-based manufacturer Varian Medical Systems. The machine is able to completely rotate around patients and deliver radiation treatment from many different angles resulting in fewer side effects. Joe Holmes, a medical physicist for the cancer center, said, "What makes it a Trilogy is there are three photon energies, where in the past we just had two energies." Additionally, he said, "Now we have an on-board imager that allows us to look at the patients in 3-D"/David Cole, Coeur d'Alene Press. More here. (Jerome A. Pollos Coeur d'Alene Press photo: Dr. Walt Fairfax, chief medical officer of Kootenai Health, inspects a linear accelerator recently purchased for the Kootenai Cancer Center)
Question: Has someone in your family been treated at the Kootenai Cancer Center? Was he/she treated well?
---
---