Wed., Feb. 27, 2013, 4:19 p.m.
Club For Growth Targets Simpson
The anti-tax group that bankrolled one-term Congressman Bill Sali's 2006 campaign says Idaho's 8-term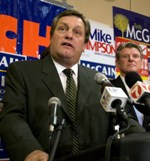 GOP Rep. Simpson is among nine "Republicans in Name Only" it aims to unseat in 2014 primaries. Club for Growth spent $1.1 million on behalf of former Idaho GOP Rep. Bill Sali in the 2006 primary and general elections, about half of all the money spent on his behalf. Sali won that race, but lost to Democrat Walt Minnick in 2008. Current Rep. Raul Labrador defeated Minnick in 2010. Simpson had a challenge from the right in both 2008 and 2010 from tea party favorite Chick Heileson. Simpson won with 58 percent in a four-way race in 2010. In a head-to-head with Heileson in 2012, Simpson won 70 percent to 30 percent/Dan Popkey, Idaho Statesman. More here. (AP file photo of Congressman Mike Simpson, left, and Gov. Butch Otter)
Question: Would you listen to a group's recommendations, after it'd spent $1.1 million to back Bill Sali?
---
---