Wed., Feb. 27, 2013, 8:19 a.m.
Edit: County Treasurer Did Job Well
Know this about Tom Malzahn: He's going to play more golf. But when he retires as Kootenai County treasurer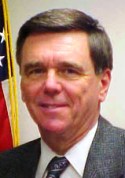 this time next month, you might not see any other significant changes in the man or the way he goes about the business of life. A cancer survivor approaching his fifth anniversary in remission, Malzahn plans to keep on keepin' on pretty much the way he has been - which is well above par for the course. For a dozen years Malzahn has made his office a model of efficiency. A little bit of that was brought on by some tough times; his department at one point had 11 employees, now down to seven. But two of those positions had been devoted to administering the county's local option sales tax, now expired, and between overseeing a rigorous cross-training program and implementing new taxation/assessment software, the seven-person crew sails right along/Coeur d'Alene Press Editorial Board. More here.
Question: Do you have any complaints re: way the Kootenai County Treasurer's Office operates?
---
---