Wed., Feb. 27, 2013, 8:50 a.m.
Trib: Guv, Legislators Dismantling Ed
Idaho's governor and Legislature couldn't do a better job of dismantling public education if they tried. And who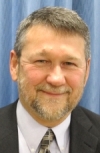 says they're not trying? For more than a decade, they have whittled away at the state's financial commitment to K-12. Last year Mike Ferguson (pictured), the former chief economist who now is director of the nonprofit, nonpartisan Idaho Center for Fiscal Policy, unearthed this fact: In that time, the share of Idaho's personal income devoted to schools dropped more than 20 percent, the equivalent of $550 million annually. Under the disastrous influence of then-Gov. Jim Risch, lawmakers in 2006 kicked the props out from under stable school finance by replacing property tax support with sales taxes - a foundation that crumbled under the weight of the Great Recession/Marty Trillhaase, Lewiston Tribune. More here.
Question: The Tribune editorial goes on to say that the governor's proposal to eliminate the personal property tax would be disastrous for education. Do you think Otter and the Legislature are intentionally trying to harm education? Or are they doing so unintentionally?
---
---