Wed., Jan. 2, 2013, 8:35 a.m.
1st KMC Baby Born New Year's Day
The due date for Matt and Jessica Barnhouse's baby was Dec. 26. Didn't happen. The Hayden couple went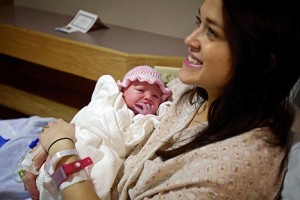 from hoping for a Christmas day birth to, well, any day. The sooner, the better. New Year's seemed just fine, too. "If we have to have any day, New Year's is a great day to have a baby," Jessica said. "It's a good birthday." Wish granted. The Barnhouses welcomed Andi Rae into their family at 12:43 p.m. Tuesday at Kootenai Medical Center. She weighed in at 8 pounds, 2 ounces, and measured 20 and a half inches. Forget the numbers, though, and forget that she was a little bit late. Andi Rae, her parents said, was beautiful. Absolutely beautiful/Bill Buley, Coeur d'Alene Press. More here. (Jerome A. Pollos Coeur d'Alene Press photo: Jessica Barnhouse holds her baby girl Andi Rae who was the first baby born in 2013 Tuesday at Kootenai Medical Center)
Question: Were any of your children or siblings born close to New Year's Day?
---
---