Wed., Jan. 2, 2013, 3:14 p.m.
Women Bond At Lake City Mission
The Union Gospel Mission in Coeur d'Alene has been open for only a few months, but in just a short few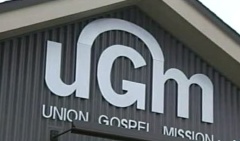 months, the women staying there have already formed bonds, strengthened by the challenges in their life and the future they have to look forward too. Together they will ring in the New Year. "Probably still searching for my self because I didn't know who I was anymore," is how one woman, who wishes to stay anonymous, said. She walked into the mission in October; at the time she was living in hotels, unsure of who she was and where she was going, until she came to the mission. It's here that women can work on themselves, academically, emotionally and physically. "This very woman we interviewed today, she three months ago wouldn't not even let her hands on camera. Today she wants her story to be known," said Debi Pauletto, with the Union Gospel Mission/Anusha Roy, KXLY. More here. (KXLY photo)
Question: Have any of you visited the new Union Gospel Mission in Coeur d'Alene? Thoughts?
---
---