Thu., Jan. 3, 2013, 5:14 p.m.
'Downton Abbey' Returns Sunday
Many devotees of a British drama set in 1920 are peeved to find themselves behind the times. The hit series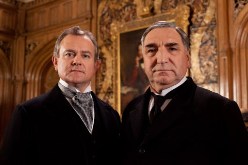 "Downton Abbey" makes its season premiere on PBS this Sunday, but it was September when those same episodes started airing in the U.K. That left big swaths of the "Downton" audience—a loyal and vocal lot—with four months to stew in envy of their British brethren. More frustrating for them: the challenge of dodging news from across the pond about major plot developments. Even an innocent Google GOOG +0.06% search for "Downton" can easily ruin the suspense, fans complain. (Don't worry, no spoilers contained herein)/John Jurgensen, Wall Street Journal. More here. (AP/PBS file photo: Hugh Bonneville as Lord Grantham, left, and Jim Carter as Mr. Carson from "Downton Abbey")
Question: Are you pining for the return of "Downton Abbey" Sunday?
---
---