Thu., Jan. 3, 2013, 8:41 a.m.
Elvis Birthday Bash On Tap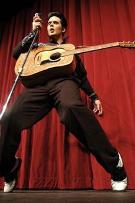 It's time we Americans came to grips with the fact that Elvis isn't coming back. Not without a lantern and a shovel, anyway. Fortunately, there is a far less macabre way to scratch that EP-itch. And that is to attend the big Elvis Birthday Bash on Saturday night at Ichiban, 202 W. Third Ave. Call (509) 868-4671 for details. (AMAZING ELVIS FACT: Had he lived, Elvis would be 78 on Jan. 8 and probably swiveling artificial hips.) Spokane's own Ben Klein, one of the world's foremost Elvis tribute artists, is the star of the Ichiban show. Klein has never taken well to the "impersonator" label/Doug Clark, SR. More here.
Question: How much do you still miss Elvis?
---
---