Thu., Jan. 3, 2013, 8:25 a.m.
Employers Mull Payroll Tax Hike
Tom Power has a lot to discuss with his accounting group these days. Topping the list: The payroll tax hike under the federal government's new arrangement to avoid fiscal calamity. The chief concern, Power said, is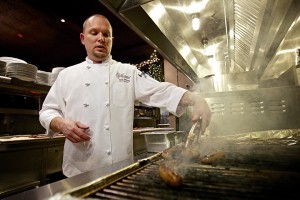 how employers like him will pass on that cost to employees. "It's something the employers pay, that we'll have to incorporate into our budgets," said Power, who owns multiple businesses like the Wine Cellar. "We have to ask, 'How does this impact the cost of benefits? The total compensation package we offer?'" While big pocketbooks are the primary target under the New Year's fiscal cliff deal, there are complaints that the little guys are getting pinched too, with the return of a higher payroll tax. As of this month, the rate of workers' payroll taxes rise back to 6.2 percent on wages up to $113,700, after a two-year tax break at 4.2 percent. The taxes are key to funding Social Security/Alecia Warren, Coeur d'Alene Press. More here. (Jerome A. Pollos Coeur d'Alene Press photo: Brett Petticolas, the head chef at The Wine Cellar in Coeur d'Alene, grills Italian sausage)
Question: How will you absorb the 2% payroll tax hike?
---
---